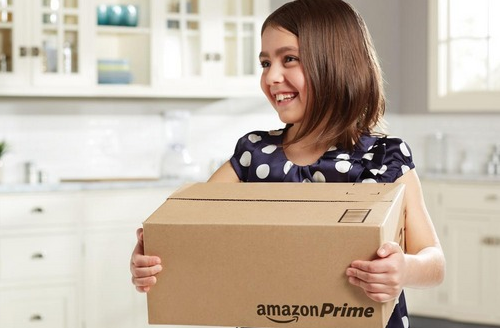 Amazon has so many awesome deals – deals that are really hard to beat even with coupons and store sales – especially when the deal is delivered right to your front door! But paying the pricey shipping fees on those deals or adding more unnecessary items to your cart in order to reach the new $35 purchase minimum for free shipping can make those amazing deals not so amazing in the end.
I really love my Amazon Prime membership!  I have been a member for several years now, and even grunted and groaned when the annual fees were increased last year.   But, I can honestly say I feel I have gotten every penny's worth of my membership fees with just the free 2-day shipping and Amazon's Prime Instant Video streaming service! Downton Abbey marathons whenever the mood strikes!  😉
Here are the benefits of an Amazon Prime membership:
FREE Two-Day Shipping on eligible items to addresses in the contiguous U.S. and other shipping benefits. 
Prime Instant Video: unlimited streaming of movies and TV episodes.
Prime Music: unlimited, ad-free access to hundreds of Prime Playlists and more than a million songs.
Prime Photos: Secure unlimited photo storage in Amazon Cloud Drive.
Kindle Owners' Lending Library: access to members in the U.S. 
Kindle First: Early access for members in the U.S. to download a new book for free every month from the Kindle First picks.
Membership Sharing: If the cost of the Prime membership at $99/year ($8.25/month) seems too prohibitive for your budget, remember the membership can also be shared!  Prime members may invite up to four eligible household members living at the same address to enjoy the free shipping benefits at no extra cost. If you split the cost of the membership – 5 people sharing a $99 membership is just $19.80 per person! 
I also love the new Lightning Deal "previews" with Prime Early Access! Prime members are now able to shop select Lightning Deals early, before the deal goes live to the public!  Many of those deals sold out this past holiday season before the public even had a chance to see the deal!  It's like VIP shopping on Black Friday!  😉  And Amazon has recently started offering "Prime Members Only" deals!  Prime members have exclusive access to purchase other products on sale!
You can get a FREE 30-Day Trial of Amazon Prime now and see how you like it!  And after your FREE Trial is up, the annual membership is just $99 per year!  (Don't worry, you can go in to your account at any time and disable the auto-renewal option!)