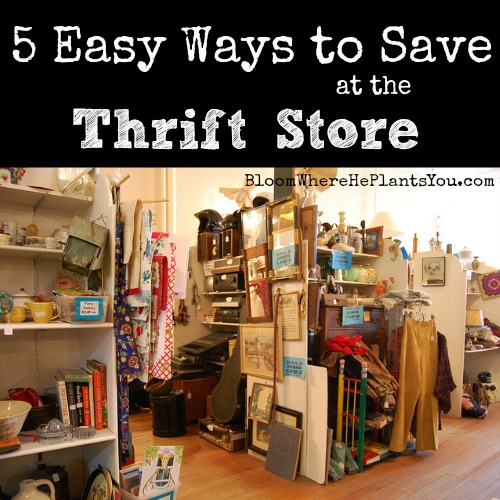 Although I loathe shopping, thrift shopping for me is a favorite past time.  I am extremely frugal by nature, so I love the idea of popping into a thrift store and possibly finding whatever it is we need, in great used or even new condition, and at a fair price!   We have been able to find clothes, snow gear, shoes, household items, books, and homeschooling supplies all at our local thrift shops.
There are lots of ways to save some money while thrift shopping, but here are five simple things you can do that will have you saving even before you get to the checkout!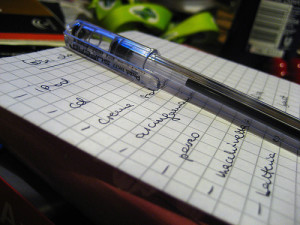 Prepare a List and a Budget (and stick to it!) – Yes, this is the most basic principle of any kind of bargain shopping, but you would be surprised at how easily this is forgotten when it comes to thrift shopping!  The mind is quick to say, "Well, it's a THRIFT STORE! Everything is used and priced super cheap!  The budgeting is already done for me!"  Yes, that may be, but if you go into thrift shopping with an everything only costs a nickel mindset, you will have blown through your entire grocery budget on thrift store finds!  Believe me, it's not hard to do!  😉
Have a clear idea of what it is you are in search of (jot down preferred brands, sizes, colors, product specifications, current retail prices, etc.), how much you are willing or able to spend on purchasing, and stick to the plan.  If you venture in to a thrift shop just to browse or pass the time (this is especially fun to do while on vacation), set yourself a very small just in case I spot something we need budget.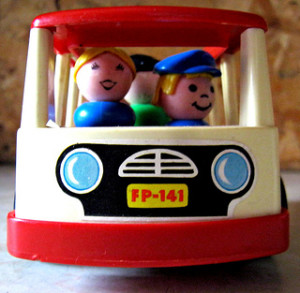 Avoid Impulse or Nostalgic Buying – One of the coolest things about thrift shopping is, well, all the cool things you can find!  Vintage toys from your childhood, favorite books or movies, dishes your grandmother used, an old cassette player like you had in high school…..the list of treasures is endless.  But, before you are tempted to throw these gems in your cart, you must first stop and ask yourself some serious questions about why you are choosing to buy any of it!  The mental justification for buying is always clear-cut (and I would add that if you are mentally listing off reasons to buy as you add a nostalgic or impulse item to your cart, you probably shouldn't be buying it):
"I had this same exact action figure play set.  I have to get it for my kids.  They'll love it like I did!"
"Oh, I loved listening to my mix tapes after school!  I'm going to grab this cassette player!  I'll pull out all my old tapes and have a listening party.  My wife will love it!"
"My grandmother had a set of Christmas dinnerware just like this!  I miss her so much.  I have to get these!" 
"Aw, my best friend had this Barbie house!  But we could never afford it.  It's just $5!"
"I remember reading that book a hundred times!  It was great!  I'll grab it to read again."
"Pegged-leg acid-washed jeans with zippers and bows at the ankles!  I wore these every day in junior high!  They'll come back in style again for sure!  Gotta have 'em and be ready!"
But if you stop and take a minute to be really honest with yourself and ask some hard questions:  Will buying these blasts from your past bring you any closer to the memories?  Will it bring a loved one back?  Will your children really appreciate all of your childhood junk?  Are you ever really going to wear, use, read, or play with it again on a regular basis?  Do you have a realistic plan as to where you will display or store all these treasures?   Didn't you just purge a ton of junk from the garage to gain more space?   
Maybe opt to just take a photo of the item instead and share the fun memory on your social media sites.  😀
Sign Up for Discount Programs – This is a cool tip I recently discovered!  Check to see if your favorite thrift stores offer any type of discount or rewards program!  One of my favorite thrift stores offers a VIP Rewards program that you can sign up for on their website.   You can earn "points" for every dollar spent in-store and then, once you reach a certain point threshold, you earn "dollar off" purchase coupons!  $5 off a purchase of $15 or more is a huge savings when you are thrift shopping!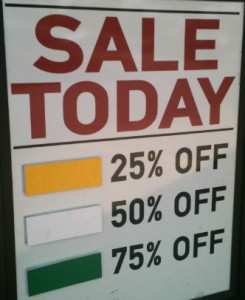 Shop on Sale Days – Inquire about "Sale Days" at your local thrift shops!  Many shops offer deep discounts (50% off or more!) on holidays, anniversaries, or seasonal sales (summer, back to school, Super Bowl Sunday, etc.).  Some stores may also offer "Discount Days" that correspond to the color-coding on the price tags.  Also check at the counter to see if there are any coupons or unadvertised specials coming up.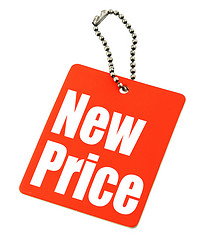 Ask for a Price Reduction – I had never thought to ask for a price reduction at a thrift store (after all, it's not a place you can haggle like at a yard sale or in a Buy, Sell, Trade group online) but I have done it several times for items that have had flaws that the pricing employee may have overlooked.  I was very happy to see a sign posted at one local thrift store that actually encouraged asking for a price reduction – it makes sense for the store to want to move out inventory quickly to make room for new donations.  The sign stated something like "We are more than happy to reduce the price on items that haven't sold for awhile", and all of their price tags are labeled with the date.  I know some stores have hard-and-fast rules regarding pricing or whether or not an item can be sold if the price tag is missing, but it never hurts to ask!
Do you love shopping thrift stores as much as I do?! What tips do you have on saving even more on second-hand purchases?

(image source 1 / 2 / 3 / 4 / 5)