Oh goodness how I love Chick-Fil-A! I have to admit though that I am a new cow convert. When the first restaurant opened near us several years ago, I was hesitant to jump on the bandwagon. Yes, the service was amazing. Yes, the food tasted great (and hello?! Chicken nuggets that actually were made with real chicken?). Yes, there was a clean and safe play area for my toddler. But the prices?! Rooted in my frugal ways, I could not bring myself to pay those prices on a regular basis. For our small family of three to have lunch, the cost was over $20. For a fast food place? YIKES.
But, after enjoying several of the awesome food promotions Chick-fil-A offers (who could turn their nose up at free food?!) I started to slowly come around. And, now that we have almost eliminated fast-food from our family's meals (Okay, all but In-N-Out – we do live in Southern California! It's a residential requirement I think. 😉 ) I am always excited to stop in with The Boy at Chick-fil-A. Even more so now that I know these tips on how to save a bit of money on ordering our favorite items!
And we have all seen this! "Our husband's say we go to Chick-fil-A way too much!" Use these tips!! LOL
Here are my Top 10 Favorite Ways to Save Money Eating at Chick-fil-A!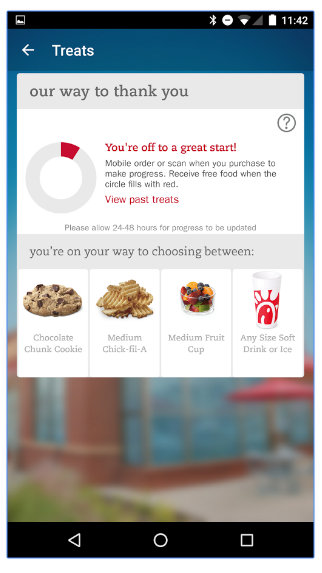 NEW for 2016! Download the Chick-fil-A One mobile app! The Chick-fil-A One app is free and allows users to order ahead (you can even customize your order and save it for future online orders) and skip the long lines! And, when you order and pay through the app, you can earn free food! For more information, go here.
RECEIPT SURVEYS. Many times when you make a purchase at Chick-Fil-A there will be a survey printed at the bottom of the receipt the cashier gives you after you order. All you have to do is go online and visit MyChickFilAVisit.com (within 48 hours of your original visit) and fill out a short customer survey (rate how the service was, how tasty the food was, how clean the bathrooms were, etc.). After you complete the survey, you will be given a unique code valid for a free original Chick-Fil-A chicken sandwich! Be sure to check out the receipts you get elsewhere too – there are lots of other stores and restaurants that offer survey rewards as well.
BUY A COW CALENDAR. Every November you can buy a Chick-fil-A Cow Calendar for only $7. These calendars feature the mascot cows and make awesome holiday gifts. But, what makes these calendars so popular (they sell out super fast every year!) and so worth the price – are the free monthly food offers! Each calendar comes with a rewards card that you can register online. Every month there is a new free food offer that becomes available (valid for that month only, so be sure to remember to use it!) and all you have to do is head to your local CFA restaurant and show your card! Some of the offers are for a free fountain drink, free waffle fries, a free sandwich, or a free salad. And some of the freebies are 'mystery' offers that are revealed via email right before the new month begins. You can always check your account to see the available offer for that month.
In previous years, there was an online option to purchase a calendar, but I am not seeing this available right now for 2017. If you are hard-pressed to find the calendars available in local restaurants, you may be able to find a youth group or other charitable organization selling them as fundraisers (sale prices may vary). And it looks like there are a few 3rd party sellers on Amazon selling them.
Here are the offers for the new 2017 "No Pain, No Grain" calendar:
January – Free medium bowl of Hearty Breast of Chicken Soup or Chicken Tortilla Soup
February – Mystery Offer
March – Free any-size Coca-Cola Soft Drink or bottle of Dasani water
April – Mystery Offer
May – Free 8-ct. Classic or Grilled Chick-fil-A nuggets
June – Mystery Offer
July – Free small Hand-Spun Milkshake
August – Mystery Offer
September – Mystery Offer
October – Free any-size Coca-Cola Soft Drink or bottle of Dasani water
November – Mystery Offer
December – Free Original, Spicy, or Grilled Chick-fil-A Chicken Sandwich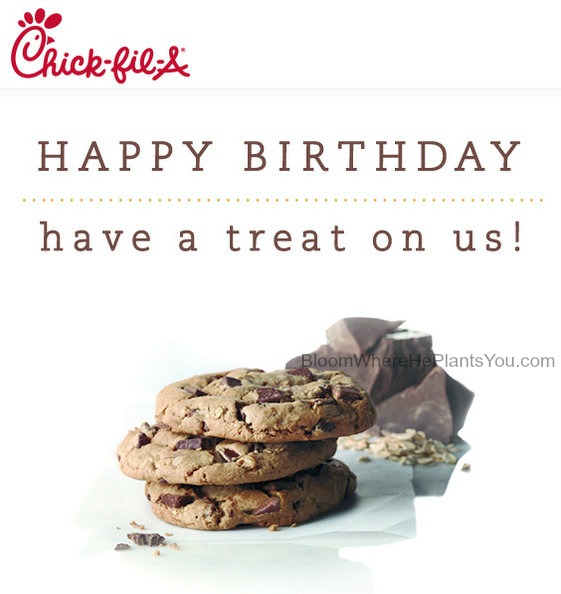 Another perk of registering your Cow Calendar Card? A cool birthday freebie! It's our birthday gift to you: a FREE Chocolate Chunk Cookie! Present your Calendar Card at your local Chick-fil-A to claim it!
FREE ICE CREAM CONES.  CFA kid's meals come with a small toy or book. If your kiddo is not interested in keeping the toy or book, simply bring it up to the cashier and you can swap it for a free ice cream cone! I love this option as it reduces all that random car clutter and the books are mainly easy readers.
You can also score free ice cream cones for the whole family by taking the new "Cell Phone Coop" challenge being offered at many locations. Be sure to ask your local franchises about the availability. For more information on this offer, go HERE.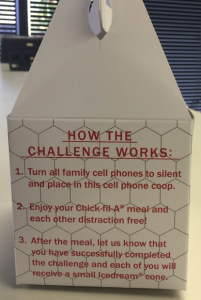 SPLIT A MEAL. I have found that the food portions at Chick-fil-A are very plentiful. The Boy and I can easily share an 8-ct. nugget meal or a sandwich meal and walk away pretty satisfied (granted I have a smallish appetite and he is only 7 – but he does pack away the food!). Saves on having to buy two big meals and then having to take leftovers with us in the car……that never get eaten. Don't forget to refill your drink before you leave too!
COW APPRECIATION DAY. Once a year, every Chick-fil-A celebrates Cow Appreciation Day! Come dressed from horns to hoof as a heifer and graze on a free combo meal (breakfast, lunch or dinner) or a FREE entrée for a partial cow costume.
FAMILY EVENTS. Many Chick-fil-A restaurants host family events. These special promotional hours are filled with games, crafts, and even a food deal. One of my local restaurants holds a BINGO game one morning a week. It's free to play and the prizes are often free food coupons.
FREE BREAKFAST ITEMS. Several times a year it seems many CFA restaurants offer a week of free breakfast menu items with no other purchase necessary. Each morning features a different item and these can even be scored through the drive-thru! I have been to a few of these events and some restaurants required a reservation sign up and others were just sort of a crazy free-for-all so to speak. Ha!
KID'S CLUB. Select Chick-fil-A franchises offer a KIDS CLUB. It's free to sign up! We don't have this in our area, so I'm curious as to what the Kid's Club offers as far as discounts!
SENIOR OR MILITARY DISCOUNTS. Check your local CFA's for special discount offers.
BE SOCIAL. Be sure to sign up, follow, subscribe, etc. to all of  your local Chick-fil-A's social media platforms (Facebook, Instagram, Twitter) and email/text listings. Each franchise is run independently and the offers and events definitely vary by location.
We have a couple of CFA's in our area and it is so fun to follow them on Facebook to see the current offers, secret menu options, fun contests (one franchise just gave away several 30-ct nugget platters for a correct guess to a menu question!), and kid's events.
(And I have to brag a bit about a recent trip we made on Leap Day. We scored the free menu item from the cow calendar for The Husband's lunch, I had the free original Chick-fil-A sandwich from a receipt survey, and The Boy had a nugget meal. We also got in on the BOGO dessert promotion our restaurant was offering. So, we all had lunch for the price of one meal! And then I came home to check my email and see an offer for a free cookie! CFA for the win! Ha!)