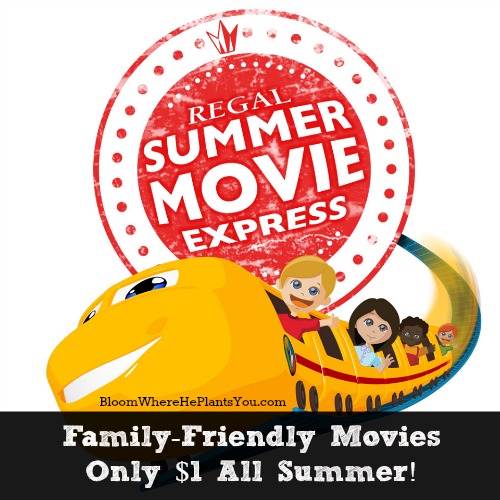 The summer heat will soon be upon us here in California and a cheap indoor activity like a movie and a bag of popcorn is a perfect way to spend a hot morning!  And, if you've got kiddos that have never had an indoor movie experience, this is a great way to introduce them to a theater!
Once again Regal Cinemas is offering $1 summer movies!  These family-friendly movies start at 10 a.m. on Tuesdays and Wednesdays and will run for 9 weeks at participating theaters.
Here is the movie schedule for 2016. Each week both movies play on both days. Check your state for participating theaters and schedule start dates. 
Week 1
The Lego Movie PG
Max PG
Week 2
Goosebumps PG
The Iron Giant: Signature Edition PG
Week 3
Pan PG
The Smurfs 2 PG
Week 4
Despicable Me 2 PG
Home PG
Week 5
Minions PG
The Peanuts Movie G
Week 6
Alvin & The Chipmunks: The Road Chip PG
Curious George G
Week 7
The Book of Life PG
Hotel Transylvania 2 PG
Week 8
Cloudy With a Chance of Meatballs 2 PG
Shaun The Sheep PG
Week 9
The Croods PG
Dr. Suess' The Lorax PG
With the summer heat here in Southern California (that never seems to end!), I am so glad to take advantage of this indoor activity!
And, don't forget to check out these other fun and free summer activities for the kiddos: