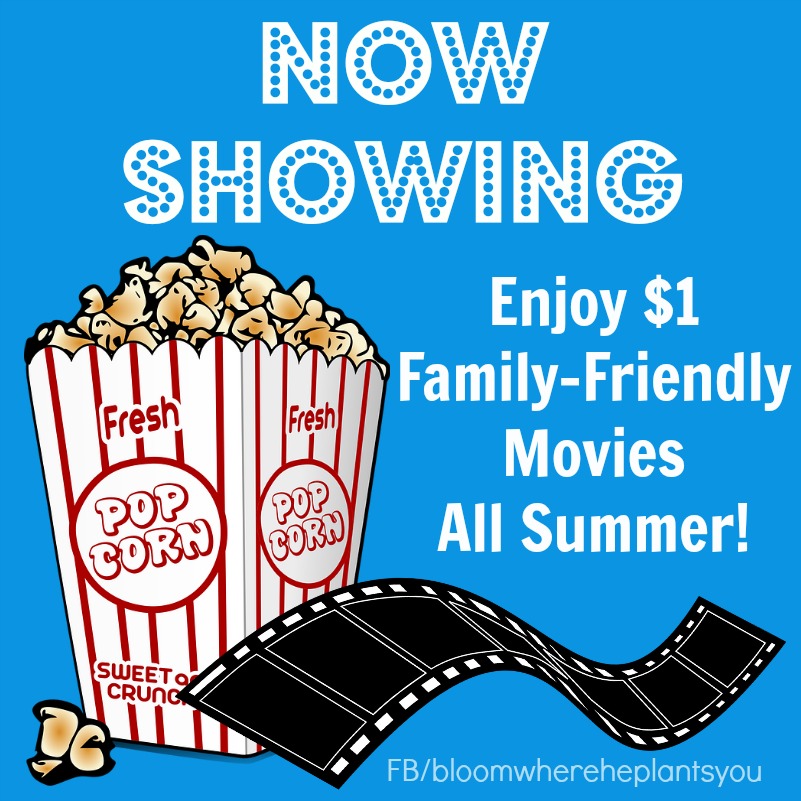 The summer heat will soon be upon us and a cheap indoor activity like a movie and a bag of popcorn is a perfect way to spend a hot morning! If you've got kiddos that have never been to see a movie in a 'real' movie theater, this is such a fun experience!
Once again Regal Cinemas is offering $1 summer movies!  These family-friendly movies start at 10 a.m. on Tuesdays and Wednesdays and will run for 9 weeks at participating theaters.
Here is the movie schedule for 2017. Each week both movies play on both days. Check your state for participating theaters and schedule start dates. 
Week 1
Kung Fu Panda 3 (2016) PG
Ice Age: Collision Course (2016) PG
Week 2
Trolls (2016) PG
Alvin and the Chipmunks: Chipwrecked (2011) G
Week 3
Monster Trucks (2016) PG
Penguins of Madagascar (2014) PG
Week 4
Rio 2 (2014) G
The Boxtrolls (2014) PG
Week 5
The Secret Life of Pets (2016) PG
Sing (2016) PG
Week 6
Kubo and the Two Strings (2016) PG
Ratchet and Clank (2016) PG
Week 7
The Spongebob Square Pants Movie: Sponge Out of Water (2015) PG
The Adventures of Tin Tin (2011) PG
Week 8
Happy Feet 2 (2011) PG
Cats & Dogs 2: The Revenge of Kitty Galore (2010) PG
Week 9
Storks (2016) PG
The Lego Batman Movie (2017) PG
And, don't forget to check out these other fun and free summer activities for the kiddos: