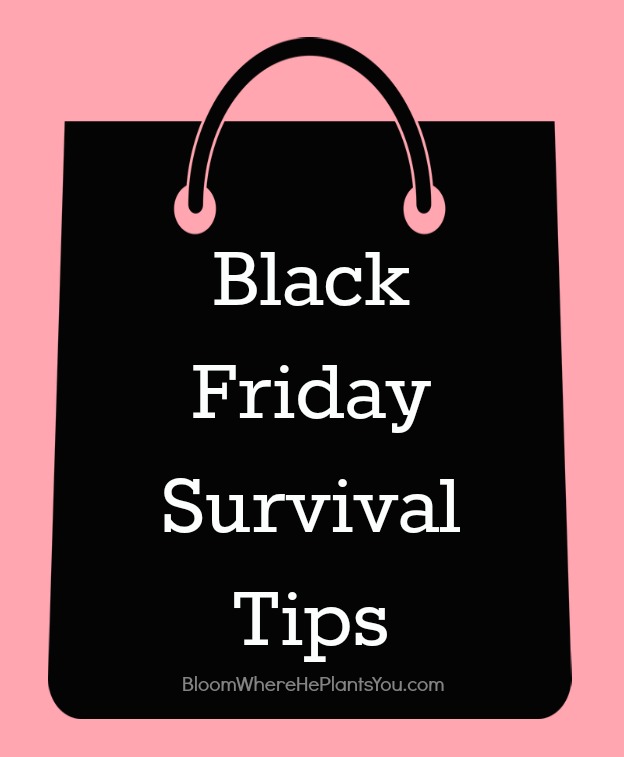 After way too many years working in retail and having to get my butt up at the crack of  'OH MY GOD ARE YOU SERIOUS?!' the morning after Thanksgiving, you will never find me at any type of retail establishment on Black Friday. Nevah. No, I plan to do all of my holiday shopping (well, what's left of it anyway) online! But for those of you die-hard deal-seekers, I have put together a little survival guide to get you through the night! Don't worry, you can always sleep on Saturday!
SET A BUDGET
Set a realistic budget to go along with your list and plan on sticking to both of them. Sit down with spouses and/or other family members and determine what your budget limits will be for Black Friday spending – and the rest of the holiday shopping season. (Remember all of the reasons you've been diligently couponing, thrifting, budgeting, and saving – don't blow all that hard work in one day!)
Cash envelopes or gift cards are a great way to stay on budget, but if they get lost or stolen, that's it. Credit cards are the safest bet but you will have to be careful to tally up the receipts to stay on budget as you shop.
RELATED POST: Boost your holiday gift budget quickly with this 'Never Spend' Savings Challenge
MAKE A LIST
Make a list of the deals you want and then prioritize the list with the must-have items / limited time deals at the top. Use this time to evaluate your gift-giving/spending habits and see where you can trim the fat. Maybe limit the number of items per person or cross some folks off the spending list and opt for homemade gifts.
Plan on hitting only a few stores. It is just not possible to hit up every single store and catch every single sale. You will go crazy dealing with the traffic, finding parking, and fighting the crowds. Try to group your deals at one or maybe two stores to maximize your luck of finding items in-stock. Or shop with friends and divvy up the list of deals and stores to hit!
Map out your route for the day according to store and note store opening hours. Be mindful of getting caught up in the mob mentality of popular items (anybody remember the Christmas that folks were boxing each other out over Cabbage Patch Dolls?!). Stay focused on the list and plan on getting out of the store ASAP before you start making those regrettable impulse buys.
RELATED POST: Help parents conquer toy clutter with these ideas for The Best Non-Toy Gifts for Kids.
SHOP FROM HOME
If you don't want to miss out on the Black Friday deals, but are not at all eager to join the shopping frenzy at the mall, consider staying home and shopping online. Many of the same Black Friday deals will be available online (with the exception of those limited time doorbuster deals) and you can just relax on the couch and shop in your jammies with a warm fire, a leftover turkey and stuffing sandwich, and a slice of pumpkin pie!
CHECK THE DEALS & COMPARE PRICES
The Black Friday Retail Ads begin leaking out as early as October, so you'll have plenty of time to review the ads of your favorite stores and start to make your shopping lists. Follow your favorite retailers on Facebook and Twitter and subscribe to their e-newsletters for alerts on sales, special promotions, coupons, and discounts. Also be on the lookout for additional savings in the form of coupons in the newspaper ads on Wednesday or printable online coupons.
Not all Black Friday deals are created equal. Yes, the deals will be amazing, but they will also vary from store to store. (There may even be a better deal for the same item online vs. in a brick and mortar store.) Take the time to look over the ads and do some comparison shopping – especially on the big ticket items – and then add the best deal/store to your list. Have your Smartphone ready while you're shopping in-store so you can compare online prices quickly. Sites like PriceGrabber.com, PriceWatch.com, ShopAdvisor.com, ShopSavvy, and Shopping.com will help you to get the best price.
KEEP TRACK
Before you make any purchases, be sure to review store return policies online or at the customer service counter. Many stores will charge a "restocking" fee (as high as 15%) on items like electronics. Keep all purchase/gift receipts in a safe place in case you need to return or exchange an item later on. If you have purchased an item with a rebate offer, be sure you have all the necessary paperwork ready to fill out and send off (do this as soon as you get home or you may end up forgetting and missing the redemption deadline – making that really amazing deal not so amazing. Been there, done that.) Keep warranty information in a handy file as well.
BE SAFE
With as many people that will be out looking for the best deals to score on Black Friday, just as many people will be out looking to commit crimes of opportunity. Practice caution with your valuables and your personal safety:
shop with friends
make note of where you parked so you are not wandering aimlessly
lock car doors
roll up car windows
hide packages (and anything else of value) in the trunk of the car (I have personally witnessed thieves stealing packages out of the bed of a pick up truck in broad daylight during the holiday season!)
carry your cash/credit cards in a front pants pocket – not in a shoulder bag (or consider wearing a money belt)
look around parking lots for creeps and weirdos hiding between cars or following shoppers out to their cars
make several trips to put packages away in the car as you shop
ask security to escort you out to your car
use common sense and trust your instincts!
BE PREPARED
If you're planning to head out before the stores even open, be ready for a long wait outside in the cold and dark. It's cold at o'dark thirty a.m. – so remember to dress accordingly: mittens, hats, scarves, coat, hand warmers, extra socks, and comfortable shoes. Light layers that you can leave in the car or your bag will help you to cool off as the day progresses. Bring something to help pass the time while you wait in line like a good book, or listen to a favorite podcast, or binge watch a show. Invite a friend along to cover potty breaks, to hold the place in line, and make the necessary coffee runs. Make sure your cell phone is fully charged too.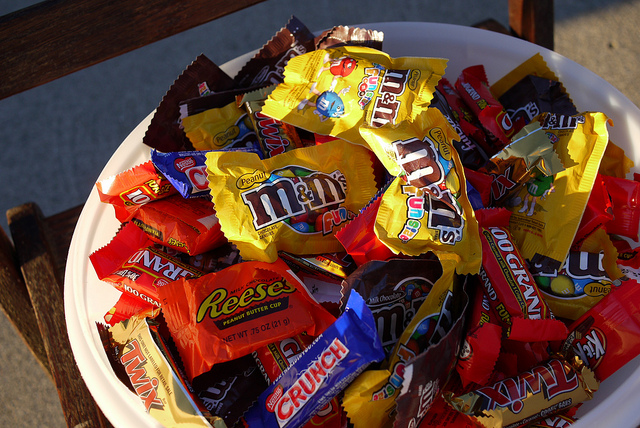 REFUEL & RE-ENERGIZE
If you're planning on heading out for the Black Friday madness Thanksgiving night (or super early the next day) you will be in for a long day of running around and standing in lines. Bring some Tylenol for the headaches you are bound to get from dealing with the crowds. Also bring plenty of easy-to-eat on-the-go snacks that will quickly re-energize you until you can get home or to a restaurant for lunch: CHOCOLATE. Or some healthy junk like granola bars, trail mix, veggie sticks, fruit, maybe a cooler for the car (filled with ice cold drinks and deli sandwiches), and plenty of water to stay hydrated. It may be a stressful day and hunger will lead to low blood sugar which will quickly lead to reduced energy and hanger – crazy hunger-related anger/crankiness. If you are starving and unfocused and cranky, you will be more likely to buy whatever you can grab just so you can get out of there and go home.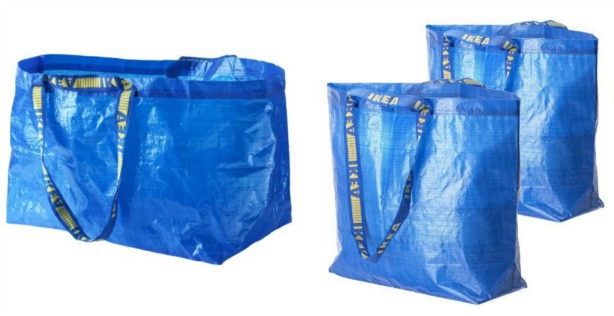 BAG IT
Bring along some of those large reusable shopping bags like they have at IKEA. All the carts and baskets may already be gone and navigating the crowded aisles and sale displays with an overflowing cart will be darn near impossible anyway.
BE PATIENT & JUST RELAX
Try not to add to the 'jerk count'. There'll no doubt be a ton of people out and about and a large part of them will not think twice about being a buzz kill for others. Be extra kind and patient with people, and be wary of the crazies on the roads, in the parking lots, and rushing the doors as the stores open!
Take some time out between stores to just sit and rest, organize sales receipts, consolidate shopping bags, and take a breather. Try not to stress out too much about missing deals or having to throw in the towel on trying to shop on Black Friday. Remember that it's all just stuff and none of it is really necessary to make you or anybody else truly happy. Besides, the holidays are not about who gives the most stuff. You will be very surprised (and maybe even a little sad) at how quickly some of the stuff is tossed aside after it's opened Christmas morning. (Anybody see Toy Story? *sniff*sniff*) Just set out for a fun day, whether or not you even spend money at all. Should at least make for some awesome people watching!
Do you shop the Black Friday madness?  What tips would you add to the list?